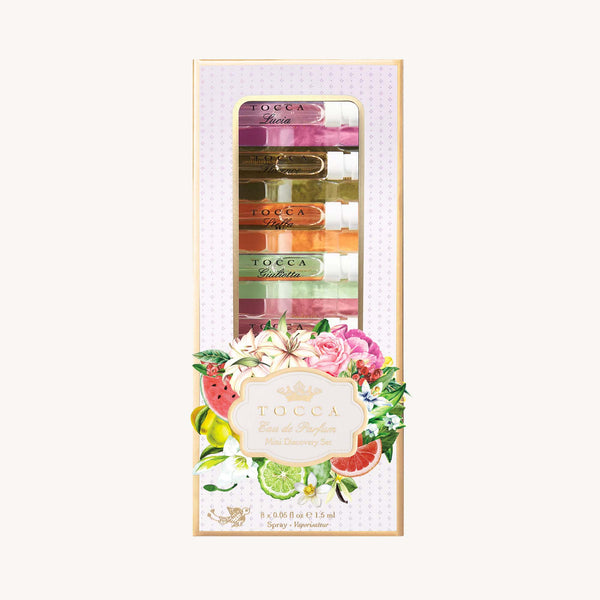 Eau de Parfum Mini Discovery Set
$24.00
8 x 0.05 fl oz ℮ 1.5ml 
Discover which Eau de Parfum makes you feel your best with this set of convenient, trial-size spray vials.

Key Notes:
Lucia - Italian Lemon, Fig, Vetiver
Florence - Bergamot, Pear, Gardenia
Stella - Italian Blood Orange, Freesia, Spicy Lily
Giulietta - Green Apple, Pink Tulips
Cleopatra - Grapefruit, Jasmine, Vanilla Musk
Colette - Bergamot, Sandalwood, Pink Peppercorn
Simone - Watermelon, Ylang Ylang, Frangipani
Belle - Italian Bergamot, Petit Grain and White Freesia

---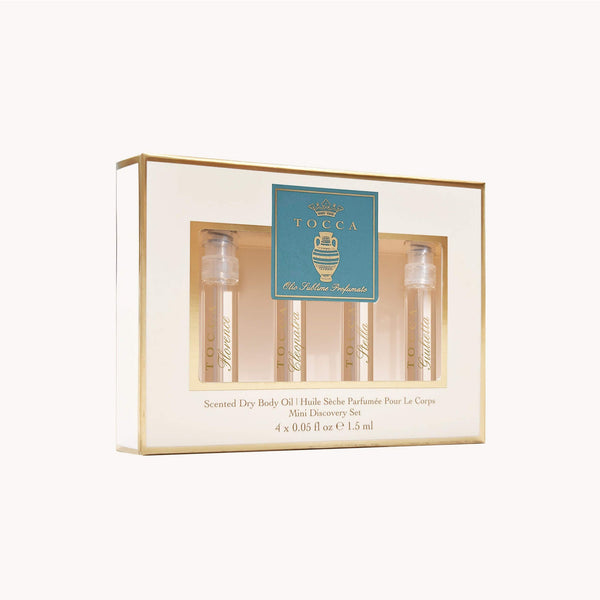 Olio Sublime Profumato Mini Discovery Set
$12.00
4 x 0.05 fl oz ℮ 1.5ml 
Experience a silky, antioxidant-rich dry oil blend of argan, jojoba, and sweet almond oil, that will leave your skin glowing, velvety soft, and lightly scented. Naturally nourishing, thoughtfully formulated, quintessentially TOCCA.
Key Notes:
Florence - Bergamot, Pear, Gardenia
Stella - Italian Blood Orange, Freesia, Spicy Lily
Giulietta - Green Apple, Pink Tulips
Cleopatra - Grapefruit, Jasmine, Vanilla Musk

---
Luxury Fragrance Wardrobe
$68.00
9 x 0.15 fl oz ℮ 4.5ml Eau de Parfum spray vials
($93 value)
Our iconic luxury discovery set is back in its precious tin case. This oh-so-adorable giftable collection features our top-selling scents:
Key Notes
Florence: Bergamot, Pear, Gardenia
Cleopatra: Grapefruit, Jasmine, Vanilla Musk
Stella: Italian Blood Orange, Freesia, Spicy Lily
Giulietta: Green Apple, Pink Tulips
Simone: Watermelon, Ylang Ylang, Frangipani
Colette: Bergamot, Sandalwood, Pink Peppercorn
Liliana: Neroli, Watery Peach, Muguet
Gia: Tangerine, Turkish Rose, Pink Peppercorn
Belle: Italian Bergamot, Petit Grain, White Freesia 

---